Welcome to Killeavy.com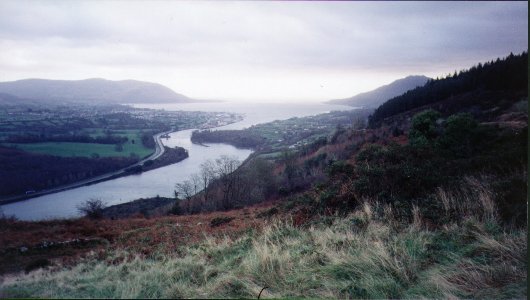 The view from the Flagstaff, is one of the most breathtaking in Ireland or anywhere else. Many thousands visit this beauty spot but one wonders do they know why it is named.
From the rock on which stands the pole you have an uninterrupted view of Carlingford Lough and the Mourne Mountains. In bygone days when sailors had not modern advanced navigational aids it is said that they took their bearings and gauged the wind from the flag overlooking the estuary. There are others who maintain that the flag was raised to warn would be smugglers of approaching customs men.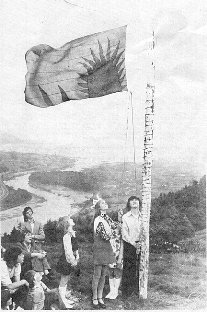 On the last Sunday of July each year the special Fiesta is climaxed when the Flagstaff flag is hoisted on Barry's rock. The colourful pageant always highlights the great attraction the Flagstaff is.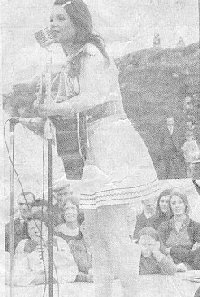 Dana sings to 4,000 people at the Flagstaff on 26th July 1970
The Flagstaff flag, which is seen being raised in one of the scenes from the film " Kick Any Stone ", depicts a sunburst on a field of St. Patrick's, blue with the tips of sails emerging over the horizon. The pole, on which the flag rests, was hewn from the nearby Fathom forest, and stands 40 feet. From the Flagstaff you can see across to the Mountains of Mourne and the famous Cloc Mor ( the big stone ). Looking down the estuary you can see the majestic Narrow Water castle standing sentinel at the mouth of the Newry river and further down the lough the volcanic Slieve Foy dominates the horizon. In the sunlight Warrenpoint glistens and sparkles white in contrast to the sometimes mediteranean blue of the sea.
One may travel many miles in any part of the world but you will find the view from the Flagstaff more satisfying than anything you will see in more famous places. In the evenings the lights of South Down, Armagh and Louth twinkle merrily along the coast and the flashing lamps of the lighthouse now warn sailors of the dangerous entrance to Carlingford Lough.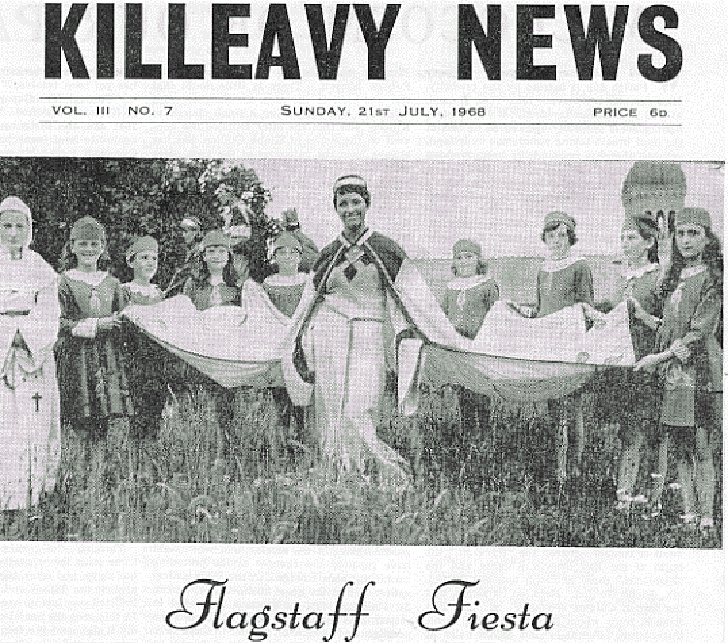 click on the image to enlarge it
Copyright © 2005 Killeavy.com
.